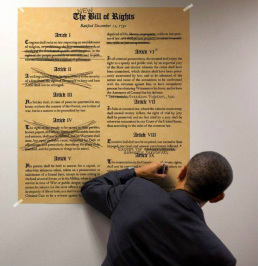 Striking out some of our Bill of Rights.
Your last chance to save our country!

Obama is an avowed Muslim and he will adhere to the Islam religion which is not a religion that should be the religion for the Christian United States of America! Do you want to change your bible for the Koran?

Barrack Obama will destroy our country if he is re-elected president of the USA! He has sworn to down size the US, to make this country less dominate in world affairs, change our Constitution, reduce our military, create a social welfare state, increase taxes, legalize over 20 million illegal aliens, instigate all the unconstitutional illegal executive orders he has signed and ready to go to give him unlimited powers, reduce the demographic white population balance and make the Blacks dominate, make same sex marriage the laws as the rule of the land, corrupt the what the bible says and the most decent people and the Christians traditional believe that homosexuality is evil and wrong, making innocent children think it is OK, destroy the tradition of marriage between man and wife, bankrupt the country, import millions of African Blacks into the country, change the Constitution to allow him to be President for life, concede territory to the Mexican government in the Southwest and much more. In short his goal is to destroy the US as we now know it!

So this is your last chance! Vote him out on November the 6th!

Continue to on the other pages to see the rest of the is website to see the real truth about Obama.

This website will be shut down on November the 6th no matter how the election goes.

"If you voted for Obama in 2008 to prove you were not a racist then vote against him on November the 6th to prove you are not an idiot!"

Save America! Vote against Obama and dictatorship!







---