This is a brutal and horrifying picture isn't it? Someone's wife, girl friend or daughter has been raped and murdered. What do you think the punishment should be when this fiend is caught? The punishment we have today in most states is just a prison sentence with time off for "good behavior" then the perpetrator will be out on the street to commit more crimes. The penalty for heinous crimes such as rape and murder should be the death penalty. Do you think the death penalty is too easy? I for one do. The punishment should fit the crime. In this case the punishment could not be too severe. The website below will give you the crime statistics in most any major city. The statistics are shocking to say the least.
Considerable major crime is coming from the illegal immigrants that find it is a lot easier to commit crimes in the USA. The punishment is not as severe as in other less civilized countries (?) where it is an "eye for an eye!". I for one would consider carrying a weapon for defense and never let your wife, daughter or girl friend go in the areas that might be dangerous. (Of course you may need special gun licensing for this in most states).
In some states such as my state, New Mexico and in Texas and others, you can carry a gun if it isn't concealed. Check your local and state gun laws. If you don't know how to safely use a gun then learn first! "Home break ins" are a real easy way to enter your home. One good kick and they are in! Also a knock on your door and when you open it they rush you and that's it. So I say hurray for the 2nd Amendment. Arm yourself and protect your family. Professional home alarms systems are generally a waste of money because by the time the police arrive the criminals are long gone. (They might keep the amateurs away though!) if Obama and his gang have their way the 2nd Amendment will be repealed and only the criminals will have guns, like in Britain and you can see what has and is happening there, just plain anarchy!
http://www.cityrating.com/crime-statistics

http://www.en.metapedia.org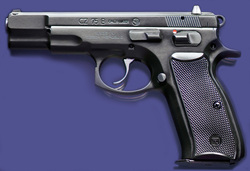 I would recommend a 9mm hand gun for over all protection. It is not to big and not to small. A good all around pistol that can easily be mastered in its use.In this day and age of many terrible things may be happening right in your neighborhood. You should be armed and be prepared to use it.

If you don't know how to use a gun then you should learn. Take lessons and of course if your state requires it, get licensed, trained and learn the gun laws in your state and locale. Regardless, know how to safely use your weapon!

What is pictured is a 9mm Brietta pistol which is a good hand gun. Also it may be advisable to have a 12 gauge 5 shot shotgun loaded with buck shot. At close range you can't miss. If some creep openeds your door with a well placed kick, (the heavy kick is the criminals favorite way to quickly open yon your door) he will be very unpleasantly surprised facing a well armed home owner with a 12 gauge shotgun. If you have to use it, you can't miss! If you think this is too far fetched I advise you to check the crime rates in your city and in your neighborhood. There is a free web site, www.spotcrime.com, that will send you periodic reports of the crime in a 3 mile radius of your address. Try it. You will be surprised and it will cause you to re-think your security!

If this all scares you and you do not wish to protect yourself and family with a weapon, then I strongly advise you to live somewhere that is protected by 24/7 private security! However, this kind of security can sometimes only be an illusion.

---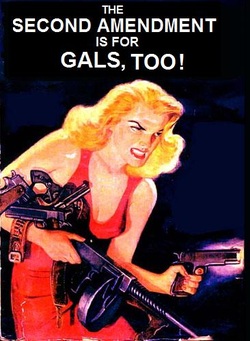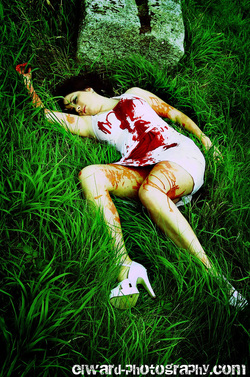 Brutal isn't it. Rape and Murder occur every minute in the country. Arm your self and protect family.
---