Barrack Obama is not a natural born citizen of the United States of America! He is a natural born citizen of Indonesia! Therefore, he is not the legal president of the USA! He is an imposture and should be impeached! The following videos and documents will show this to be the true facts of the cover up of Barack Obama's true birth and his true origin of birth, Kenya or Indonesia. It doesn't where, he was not born in the USA! Barack Obama is not even his real name. His real name on his Indonesia birth certificate is Barack Hussein Soetoro. So why would he change his name to Obama? It is obvious that he wanted to hide his real identity.

The following videos are just a sample of the many other videos available to anyone on the Internet. Where there is so much smoke there has to be some fire. To be fair it is possible some of the hundreds of these videos could be faked, but all of the many hundreds, I don't think so. It defies common reason.

So how did this man become the president of the USA? This is so mind boggling that I for one can't comprehend it at all. This has to be a colossal conspiracy to begin the down fall of the USA! So well conceived and carried out that is indeed the most dangerous attack on the USA ever! It is insidious and sinister and so well thought out and planned that it may well succeed where other more direst attacks have failed.

Obama was picked, chosen, trained, financed by outside and inside forces to carry out the main goal of these unknown persons. What is their master plan? It is the destruction of the United States of America! He is but a puppet whose strings are being pulled and manipulated by these unknown forces.

How can one draw any other conclusion? Of all the presidents in our history this one has to be the most controversial, confusing and hard to understand. What is extremely hard to understand is that is a black man, who is a Muslim and not even a citizen, has fooled a lot of people. There is a mysterious dark side to his back ground that much effort has been made to hide, confuse and to change.

The bleeding heart liberals, the college elite and the other fools who think that by having a black president it shows the world that we indeed have become liberalized! Well indeed we have become more than liberalized, we have become fools as well. May be not only fools, but complete idiots to not stop this now!

Some of these videos may require Adobe updates or may be they are being attacked? If you can't view any of them, go to You Tube to see them. Click on You Tube at right bottom of video screen. If you can't still see them then they have been eliminated by the Obama gang. These Anti-Obama web sites and videos are going fast. They are being eliminated one by one. This web site probably will too, once they notice it.
So much for the 1st Amendment!
Wake up America!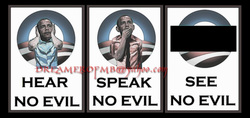 ---